Best Fan Experience
"An ATP Award of Excellence" granted to the Monte-Carlo Rolex Masters
Every year, the ATP awards sectors of excellence in its different tournaments.
The prizes are assigned by region (United States, Europe, the rest of the world). The ATP staff, in particular those who travel and work at the tournaments, propose candidates for the Awards of Excellence. After an in-depth study, tournaments are selected according to each prize category.
In total five prizes are granted: Best Fan Experience, Best Player Services, Most Improved Venue, Best Media Services, Best Marketing and Promotion.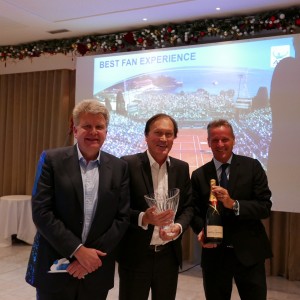 The Monte-Carlo Rolex Masters was winner in the Best Fan Experience category for the European Region, commending efforts undertaken to offer fans an exceptional experience throughout the tournament week. The tournament has continually improved the level of its spectator services. Whether it concerns the comfort of the stadium, the practice courts, hospitality, the official boutique, the public leisure areas or the children's activities, the Monte-Carlo Rolex Masters offers one of the best "Fan Experiences" among outdoor sports events in the world.
"The ATP is proud to reward the tournament, which takes place so close to its European headquarters, for its continued efforts in enhancing the fan experience in tournaments on the ATP circuit". David Massey, Executive Vice President, Europe.